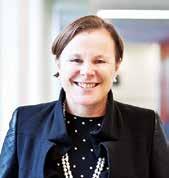 "I am honoured to be Patron and to help where I can. I had so much support and friendship through my 19 years of association with the College as my six children progressed all the way through. Being patron gives me the opportunity to help others and building the Foundation builds the community around JTC so we can all care for each other".
Professor Fiona Wood AM, FRCS, FRACS is the inaugural Patron of the John XXIII College Foundation. Fiona has a strong history with the College, having educated her four boys and two girls at John XXIII and this has instilled a passion for the College and its ethos.
Professor Wood's greatest contribution and enduring legacy is her work with co-inventor Marie Stoner, pioneering the innovative 'spray on skin' technique (Recell), where today the technique is used worldwide. In October 2002, Fiona was propelled into the media spotlight when the largest proportion of survivors from the 2002 Bali bombings arrived in Perth where Fiona led the medical team at Royal Perth Hospital to save many lives.

Fiona was named a Member of the Order of Australia (AM) in 2003. In 2004 she was awarded the Western Australian Citizen of the Year Award for her contribution to Medicine in the field of burns research. Fiona was then named Australian of the Year for 2005. She is a National Living Treasure (Australia). Fiona is a Fellow of the Australian Academy of Health and Medical Science.
Fiona's calling to seek justice in the world, and her commitment to improving the lives of thousands, exemplifies the Foundation ethos 'From the Heart for the Future'.